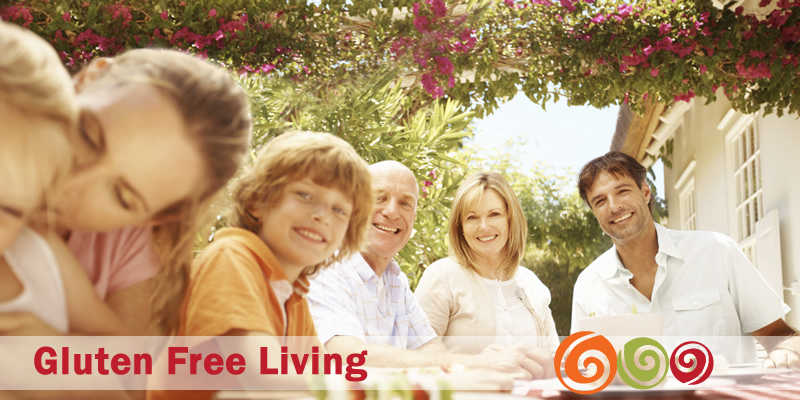 Gluten-free eating
---
Gluten-free tips
Get used to reading food labels when you shop.
All packaged food in the UK and the EU is covered by a law on allergen labeling, meaning you can tell whether or not a product is suitable for a gluten-free diet by reading the ingredients list. If a cereal containing gluten has been used as an ingredient in the product, it must be listed in the ingredients list (no matter how little is used).The specific grain will be listed, so look out for mentions of wheat, rye, barley, oats, spelt, Kamut® or any other grain which has been made through breeding these together as these all contain gluten. Often, these ingredients will be highlighted in bold.
Use gluten-free substitutes in place of gluten-containing foods
Pasta, bread and crackers all contain gluten, but that doesn't mean you can't still enjoy these foods in your diet. Instead, switch to gluten-free alternatives of your favourite foods, which you will find in most supermarkets and health food stores. Gluten-free substitute foods include pasta, bread, crackers, bread rolls, cereals and more. Those medically diagnosed with coeliac disease can receive some gluten-free staple food on prescription from the NHS.
Remember lots of foods are naturally gluten-free
Fresh fruit and vegetables, meat, poultry, fish, cheese and eggs are naturally gluten-free, so use these as the basis to your meals.
Enjoy naturally gluten-free grains and cereals.
The gluten-free diet doesn't mean that all grains and cereals are off the menu. Quinoa, teff, amaranth, polenta, buckwheat, corn, millet and tapioca are just some of the naturally gluten-free grains which can be included in the diet. Just check the labels to make sure you are using uncontaminated versions. Try swapping traditional breadcrumbs for polenta crumbs, opt for gluten-free buckwheat or rice noodles and pasta and try baking with quinoa for gluten-free alternatives.
Know which alcohol to avoid
Gluten-free alcohol includes cider, wine, sherry, spirits, port and liqueurs, but remember that beer, lagers, stouts and ales contain varying amounts of gluten and are not suitable for a gluten-free diet. Gluten-free beers are available in some supermarkets and restaurants, but make sure you only drink those that are labelled in this way.
Remember you can still enjoy meals out with family and friends
Being on a gluten-free diet doesn't mean that you can't eat out – check out Coeliac UK's online venue guide to see where you can eat out gluten-free.
Be aware of Cross contamination
Even a tiny bit of gluten can be enough to cause symptoms for someone with coeliac disease, so make sure you minimise the risk of cross contamination with gluten-containing foods. Do this by washing down kitchen surfaces before use, using separate butters, spreads and jams to minimise the spread of crumbs and invest in some toaster bags to keep your gluten-free bread separate.
Avoid sauces containing gluten
Lots of pasta sauces, gravies, stocks and condiments contain wheat flour, and therefore gluten, so ensure you read the label and exclude anything that isn't suitable. Instead, try making your own pasta sauces and gravies using cornflour, arrowroot or potato starch to thicken them for a gluten-free option.
Experiment in the kitchen
Finding the right gluten-free substitute for your usual gluten-containing ingredients is a matter of personal taste, so spend time in the kitchen getting used to gluten-free flours and baking aids.
Remember, gluten-free meals can be just as delicious and healthy too
Once diagnosed with coeliac disease, you can start to make positive changes to your diet to improve your health. Join Coeliac UK for support to help you adjust, which includes a Food and Drink Directory listing products to help you get started in the kitchen.
This article was last reviewed on 26th March 2015 by nutritional therapist Kerry Torrens.
---
Gluten Sensitivity
According to the Celiac Institute, Gluten sensitivity is a condition with symptoms similar to those of celiac disease that improve when gluten is eliminated from the diet.
People with gluten sensitivity can experience symptoms such as "foggy mind", depression, ADHD-like behavior, abdominal pain, bloating, diarrhea, constipation, headaches, bone or joint pain, and chronic fatigue when they have gluten in their diet, but other symptoms are also possible. While these are common symptoms of celiac disease, these individuals do not test positive for celiac disease or for a wheat allergy.
Individuals who have been diagnosed with gluten sensitivity do not experience the small intestine damage or develop the tissue transglutaminase (tTG) antibodies found in celiac disease.
Since there is currently no blood test for gluten sensitivity, the only way to be diagnosed is to undergo the screening and diagnostic tests required to confirm celiac disease. A diagnosis of gluten sensitivity is confirmed when you are not diagnosed with celiac disease or wheat allergy, and your symptoms diminish after starting a gluten-free diet, followed by a return of symptoms when gluten is reintroduced into your diet.
There is no cure for gluten sensitivity, and the only treatment is to follow a gluten-free diet. Read more at https://celiac.org/celiac-disease/non-celiac-gluten-sensitivity/
---
Tips for Kids
Allergy-Friendly Home Tips
When you have celiac or gluten-sensitive children, it is incredibly important to maintain an allergy-friendly home. Two gluten-free mom bloggers share their tips for keeping your home safe for the whole family.
Labeling is Key
Make sure your allergy-friendly staples are clearly labeled and/or kept separate from any other items. When you are cooking, it's very easy to grab the wrong item by mistake. If you are preparing both allergy-friendly and other food items at the same time, cross-contamination is also very easy to do, especially if the food items are being prepared close together.
Define a Counter Space
It may be necessary to choose a specific counter or separate cooking utensils that you will use specifically for the new, allergy-friendly food preparation (if you have a home with both allergic and non-allergic meals being prepared).
Keep it Colorful
Color-coded items can help to keep you sane. Having dedicated cutting boards, mixing bowls and utensils will give you visual reminders of what has or has not been previously used with an allergic food. If something is plastic, chances are that even a dishwasher may not remove all of the food particles that were there.
The above tips provided by Tracy Bush, www.allergyphoods.com
---
A G-Free Pantry
For all of my staples I always stock only allergy-friendly options in my pantry. If I'm making chocolate chip cookies for my children's friends or a school bake sale, I know anyone will be able to enjoy them.
Buy in Bulk
I buy things like almond flour in bulk and keep it in labeled plastic tubs so my pantry stays organized and well-stocked.
Gluten-Free Goodies
I keep a basket in my kitchen that is always filled with healthier and allergy-friendly packaged snacks. That way my kids can quickly grab what they want for a school snack or if we're headed out for a while and they'll need something to nosh on.
The above tips provided by Susan Napolitano, www.realkidseatspinach.com